During the decades following the Civil War, the United States experienced tremendous economic growth and the concomitant accumulation of enormous wealth by a select, but growing and increasingly interrelated, group of industrialists and financiers who were determined to join the ranks of the established upper class. To assimilate themselves into society, these new plutocrats lavishly spent their newfound wealth to acquire all of the physical manifestations of the aristocratic life, including large country houses in one or more of the country's exclusive residential "colonies," such as Newport, Rhode Island; Bar Harbor, Maine; Lenox, Massachusetts; the Main Line outside Philadelphia; the Hudson River Valley of New York—and the Somerset Hills of New Jersey. These great country estates were intended to be examples of conspicuous consumption and the pursuit of leisure and a blatant statement of the owner's social standing.
New Jersey Country Houses: The Somerset Hills chronicles the country estates that were built in the rolling countryside of Somerset and Morris counties from the 1870s through the Great Depression. Volume I covers more than sixty houses that were constructed prior to World War I, and Volume II covers the prolific estate-building activity that took place between the two world wars. Volume II also includes biographies of the architects and landscape architects whose work is represented in the Somerset Hills, as well as a complete index and bibliography covering both volumes.
Each hardcover volume is illustrated with hundreds of vintage black and white and contemporary color images, as well as a thoroughly researched text describing the fascinating families of financiers, inventors, industrialists, attorneys, public officials, and celebrities who built or owned these beautiful houses and the architects and landscape architects who designed them. Fine examples of the work of some of the most prominent and influential architects of the era are represented in the Somerset Hills—including the greatest concentration of the domestic commissions of local resident George Browne Post and his sons. Other noted architects whose work can be seen in these volumes are Carrčre & Hastings; Lamb & Rich; Grosvenor Atterbury; Delano & Aldrich; Cross & Cross; John Russell Pope; Napoleon Le Brun & Sons; Henry Janeway Hardenbergh; Francis Burrall Hoffman Jr.; Montague Flagg; Guy Lowell; Renwick, Aspinwall & Owen; Mott B. Schmidt; and Lord, Hewlett & Hull, among others. The work of some of the finest landscape architects of the period—including the Olmsted firm, Ellen Biddle Shipman, James Leal Greenleaf, Charles Wellford Leavitt Jr., Ruth Bramley Dean, and Brinley & Holbrook—is also well-represented in the Somerset Hills.
More than just a visual treat, New Jersey Country Houses: The Somerset Hills is also a social, historical, and architectural journey through one of the country's most prominent and private residential enclaves. With introductions by well-known architects, the book places these great country houses in the broader context of a dynamic and fascinating period in American history.
"Best Recent Book About New Jersey-Loaded with lavish real estate eye candy, John K. Turpin and W. Barry Thomson's just-released New Jersey Country Houses: The Somerset Hills, Volume 2, a follow-up to their 2004 coffee-table tome, pays yet more rightful homage to the glorious and grand estates that dot Bedminster, Far Hills, and beyond, and provides an elegant keyhole into the lives of New Jersey's rich and not-so-famous." New Jersey Monthly magazine, March 2006
---
Presentations and Book Signings

Upcoming Events:
No events scheduled at the present time

---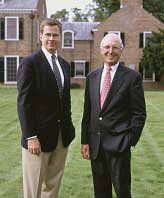 Authors John K. Turpin (right) and W. Barry Thomson grew up in the
Somerset Hills on properties that were once part of estates featured
in this work. Their lifelong fascination with architecture and local
history, as well as their extensive knowledge of the Somerset Hills,
led them to join forces to create these volumes.